NAL Insurance has recently developed a new initiative to support drivers during the COVID-19 pandemic and in the future, and the team has been busy with weekly events, merchandise sales, and a new trailer wrap which will be unveiled next month.
The initiative, named Thank a Trucker, works to showcase the hard work and dedication of professional truck drivers, especially during the recent global pandemic. Aaron Lindsay, VP of Marketing, shared, "We all saw the effects that COVID-19 had on our grocery store shelves, but thanks to these hard working men and women, we were all able to make sure we had food on our tables and the necessities we needed for our families."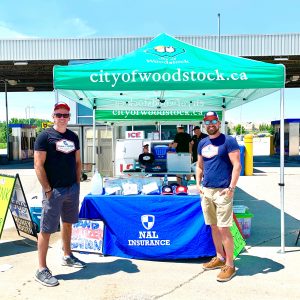 The Thank a Trucker team sets up at the TA truck stop in Woodstock, ON
each week to provide drivers with free meals and PPE kits, including masks, hand sanitizer, and more. To date, over 500 meals have been served.
Finding freshly prepared meals has been a challenge for drivers in recent months, with so many truck stops having to pause their food service operations due to COVID-19. Lindsay added, "Our events have given us a great opportunity to talk to drivers and understand the challenges they have been facing on the road in recent months, and we've made it a priority to tell them how appreciated they are."
Several trucking companies, associations, and allied trades in the industry have stepped up to sponsor the Essential Trailer, one of the methods of fundraising for the events and supplies.
The first company to secure a sponsorship was Verspeeten Cartage. "We appreciate all the work NAL has done over the past few months, bringing to light just how essential trucking is," said Scott Verspeeten, VP at Verspeeten. "The hard working men and women of our industry are finally getting the recognition they deserve," he added.
Among other sponsors is Titanium Transportation Group. "We are thankful and proud to support the initiative taken by NAL to recognize not just our drivers but all drivers," said Marilyn Daniel, COO at Titanium. Daniel continued, "It is so refreshing to see the trucking industry recognized for the dedication, long hours, sacrifice and commitment to its customers; at Titanium, we are particularly proud of all our team members and this is just another small way of showing our support!"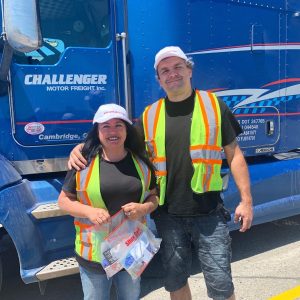 Challenger Motor Freight has also committed to sponsoring, sharing the following message: "Challenger Motor Freight is proud to partner with NAL Insurance and participate in the Thank a Trucker initiative," Geoff Topping, VP of Human Resources at Challenger commented. "We would like thank the entire Transportation Industry and the Drivers for their tireless efforts. Professional Drivers have played an integral role ensuring essential products continue to be delivered to all Canadians during these unprecedented times."
Merchandise is available on the Thank a Trucker website, and the Essential Trailer will be hitting the road in July. Weekly events are announced via the NAL Facebook page and the Thank a Trucker Instagram.